Luxury apartment Palms and Pools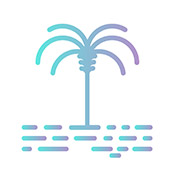 Are you planning a tropical vacation with your family, relatives or friends?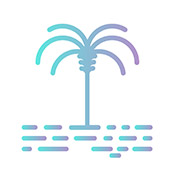 Palms & Pools is excellent for all travelers seeking tranquility, luxury and love the good way of life!
Palms & Pools Apartment is a luxury comfortable spacious 100 m2 apartment for 4 guests (on request up to 6). with an open floor plan.
The apartment has 2 modern bedrooms, 2 connected bathrooms with toilets and is situated on the corner of the ground floor providing wide ocean view.

The apartment has a large covered porch, huge terrace and garden with many comfortable seating areas with magnificent views (swimming pool and the ocean.) and enjoy the sunset every day.
Waking up in the morning there is a big chance you see the dolphins playing.


The fully equipped modern kitchen and living area are one open space which continues in the adjoining covered porch for the best outdoor dining. Enjoy your dinner al fresco or catch some rays looking out over the resort pool onto the Caribbean Sea.
The apartment is modern but cosy furnished.
Palms & Pools has a master bedroom with a top-quality king-size bed (Caresse), bed tables and plenty of storage space and a walk-in closet. The master bathroom is connected with the bedroom and has a rain shower, double sink and toilet. The washroom is a separate space in the master bathroom with washing machine and wash dryer.
The kitchen is fully equipped with cooking top, American refrigerator with water, dish washing machine, oven, microwave, Nespresso coffee machine and toaster and everything else you need to make a perfect meal.
This accommodation is a self-catered and privately-owned property, meaning that the basics are available for your convenience like 1st toilet paper, trash bags, hand soap, dish soap, dish tabs, sponge, bed linen and towels including beach towels. All other necessities that make you feel comfortable while travelling, like personal hygiene items, will need to be packed or purchased locally.

The apartment is well accessible for wheelchairs users.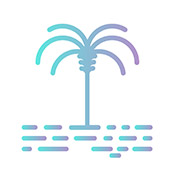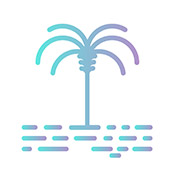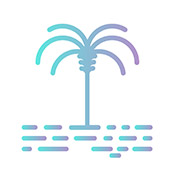 Palms & Pools is located on the top location of Curaçao
The Curacao Ocean Resort offers an oasis of tranquility within a luxurious and safe living environment. Various facilities such as a private beach and a spacious swimming pool with a sea view contribute to the living and recreation pleasure. The Curacao Ocean Resort is a very centrally located residential community consisting of 60 villas and apartments.
Are you planning a trip to Curaçao? We are happy to welcome you for an unforgettable holiday at Curaçao Ocean Resort. This unique safe and completely gated 5* resort is located directly ocean front in a central location on the island of Curacao at the end of Sea aquarium Beach/Mambo Beach and adjacent to the Jan Thiel Nature preserve and features a crystal-clear lagoon, nowhere else to be found on the island.
In addition to being directly located at the beach, we are within walking distance to many great amenities.
Beautiful white sandy private beach directly at your doorstep with an amazing view over the ocean and lagoon, while the waves are tenderly crashing onto the shore and palm trees are waiving gently in the background. On the beach you find palapas (umbrellas) and beach loungers free of charge for your convenience. The resort offers several areas for relaxation. You can take a walk for instance through the lush and well-maintained tropical gardens or go for a swim in the large resort swimming pool with kiddies' pool for the little ones.
Curacao Ocean Resort is the perfect location for a family getaway. The kids can play at the private beach, snorkel and swim in the lagoon and enjoy the large resort swimming pool with wading pool especially for the little ones. There are complementary lounge chairs and enough shade to be comfortable and to keep you safe from the sun. Make it an unforgettable vacation by indulging in a family Dolphin encounter or swim at the nearby Dolphin Academy! More water sports can be explored in short distance of Curacao Ocean Resort like scuba diving, kite surfing, sailing, fishing etc.
Many other tourist attractions and island adventure are easily reachable by car from the resort's location. Palms & Pools features a private parking space reserved for your rental car before arrival.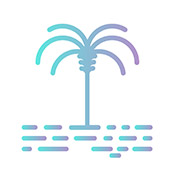 We stayed 12 days in the beautiful apartment of Hans & Michaela. The location is absolutely fantastic! It is opposite the Sea Aquarium. Walking distance from Mambo Beach. You can also see the dolphins swimming from the terrace of the apartment in the morning. Super fun experience! It is a luxury apartment with all amenities. Small incidents are quickly resolved. Contact with Michaela was excellent both before and during the holidays. Michaela has also given us many great tips. Thank you for this! You can explore the island in a fun way with a rental car. We recommend this wonderful stay to everyone!
Stefan & Sindy
Couple